About Judge Meyer
Professional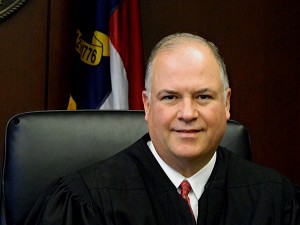 I am a lifelong resident of North Carolina. I grew up in the town of Wilson and attended Wilson County public schools. After receiving my undergraduate and law degrees from Wake Forest University, I was admitted to practice law in North Carolina in 1983. I have lived and worked in Wake County since 1984.
I became a Wake County District Court Judge in 2012. Before becoming a judge, I practiced law in Wake County for 27 years with the law firm of Poyner Spruill. The focus of my private law practice was civil litigation in state and federal courts, but I also represented criminal defendants and served as co-counsel in a federal death penalty case. In addition, I served as a certified mediator in numerous cases throughout my private practice.
I am a past president of the Wake County Bar Association and the Tenth Judicial District Bar and have been an active member of both of these bar associations since the beginning of my legal career. Over the years, I have actively supported and participated in many of the Wake County Bar Association's public service projects, including the Courthouse KidsCenter, Lunch With a Lawyer, the Bugg Den playground for Bugg Elementary School, and building access ramps for disabled citizens. For many years, as a member of the Tenth Judicial District Bar's Fee Dispute Resolution Committee, I mediated fee disputes between lawyers and clients. Throughout my private law practice, as a frequent participant in the Wake County Volunteer Lawyer program, I provided pro bono representation for persons who could not afford counsel in landlord-tenant cases, consumer protection disputes, domestic violence cases and other family conflicts.
Personal
I am married to Staci Meyer, a graduate of Clemson University and North Carolina Central University's School of Law who is now serving as a Deputy Secretary of the North Carolina Department of Natural Resources and Cultural Resources after previously serving as a Commissioner and then Chairperson of the North Carolina Industrial Commission. Our daughter, Eliza, attends Broughton High School and enjoys playing and singing old time and traditional music. We are members of First Baptist Church of Raleigh, where I teach an adult Sunday School class and we enjoy volunteering in our church's community programs, including the annual "Toy Joy" holiday program for families in need.
Away from my duties as a judge, I enjoy spending time with my family, fishing, being a sports fan, and all kinds of music.
My mother is a retired public school teacher. My father was a lawyer before serving as an Associate Justice on the North Carolina Supreme Court and then retiring as a Special Superior Court Judge prior to his death in 1999. Like me, he left a successful private law practice to become a judge and make a positive difference in our state's justice system. Inscribed on his grave is a favorite scripture of mine from the prophet Micah that serves as guidance for judges to "do justice" and "love mercy" and "walk humbly."